There's nothing more fulfilling than to fulfill one of your child's dreams.
My 4 year old has been walking around for a year proclaiming the fact that when she is a teenager, she's getting a kitty. There hasn't been a person that she's met that she hasn't said it to. She wastes no time stating it to check-out clerks, post office employees and cashiers at the grocery store, her teachers, family and anyone who'll listen! "When I'm a teenager, I'm getting a kitty"
Yesterday, delivered to our doorstep was a parcel from South Carolina. This wasn't just your run of the mill parcel. This was a HUGE deal. A life changing ordeal.
My best friend on Earth ( Not to be confused with my best friend on Mars, Venus or Saturn)
Beth
is moving. Her new landlord is a 'no cats' kinda guy. She automatically wanted to panic! Her cat, 'Rabbi' (pronounced Rabb-eye) is her BABY. She loves him with every stitch of her being and giving him to a shelter or to a stranger was just NOT an option. After we chatted on the phone and talked about it, we realized that the only solution was to have him shipped up here to us. I watched this kitty on the web cam since he was born and I am almos as attached to him as she is.
So, delivered to us was a carry-kennel with one large white cat named, 'Rabbi' inside.
My 2 little girls weren't within ear shot when he was brought into the house and they had NO idea about this so called, Parcel. It was great! My husband had the idea to place a small white resin cat figurine on the carpet in the mudroom. He then took the girls out and had them find 'magickal pinecones' One small, one medium and one large. (This gave me time to set things up and have him have a few minutes to get used to the mud room and being OUT of that freakin' carrier that he had been shipped in!) After about 20 minutes he called my cell to see if I was all set up. I was ready!!
He brought the girls in and they were thinking up magic words. It was very cute. My 4 year old walked in and said 'let's get started. I want to see the surprise already!" She had figured it out already that there was some funky magick going on in the mudroom and that there'd be a cat in there. She's too freakin' smart for her own good is what she is!!!
She made up some magick words "abra-cadabra abra-kazee do your magick, magick key" and we opened the door to the mudroom and LO! and Behold look what we found!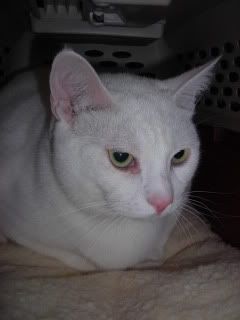 Of course the girls are ELATED and thankfully he's a very personable kitty! He loves us as much as we love him! He's even dog-tolerant! Such a sweet boy he is!
Ok.. yeah, you're thiking.. "ok cool.. now what's with the NAME?!" right?
Rabbi ( pronounced Rabb-eye) was born with a grey spot on the top of his head that looked like a
yarmulke
(pronounced yommukkah to most) so he reminded Beth's daughter of a
Rabbi
. Even though the grey spot grew out within a few months after he was born, the name stuck! So that's the story of how Rabbi came to live at our house!