Yesterday the 'NJ chapter' of the
Time To Scrap Design
team got together for the afternoon.
There's nothing like the comradarie of Artistic Friends getting together.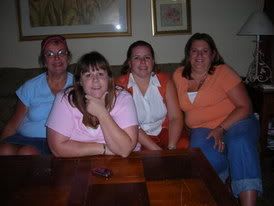 We all started off at the local scrapbooking store. Each of us had a full basket of 'goodies' at check out. Between the 4 of us, we most definitely paid the rent for the place for the next month or 2! HAHAH!! Scrapbookers are bad influences on eachother. And our wallets screamed in pain at the check out! Aside from all the
SHOPPING
we did, we also had a nice afternoon of hanging out at Laura's house and just chatting. I enjoyed the girl time. Being a stay home mom of 2 toddlers, my "adult" interaction is very limited. It was SO nice to get out of this house and go out and hang out with friends. My girls enjoyed being there with Laura's kids and the adults really did have a good, long time to chat and hang out.
We have plans set to meet up with the
rest of the Design Team
in October at Cheryl's family beach house! I can hardly wait!!