If there's one thing I never tire of, it's pumpkin picking. This is a good thing because I never feel the need to hurry the girls along. We take our sweet, sweet time looking over each and every pumpkin, looking for that 'perfect' one.
I actually didn't plan these outfits to coordinate with the pumpkin patch trip, it just sort of worked out that way. My inlaws came up for lunch and we all decided, while at the restaurant, that we'd hit the patch on our way back to the house. It was a splendid idea! The girls looked ever so cute in their matching dresses and it made for such a nice photo shoot
M'Kayla feels the need to hug and touch every single pumpkin, often kissing them and telling them how much she loves them. I love her sensitive, sweet heart. She's a very affectionate child towards people, animals and even, as you see here, vegetation!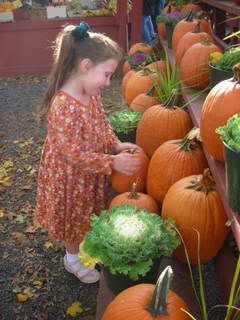 The moment we parked the car, before she even got out, Ellie had her eye on one specific pumpkin. The moment she was unclipped from her car seat she ran straight for it and picked it up, proclaiming loudly, "I want THIS one!"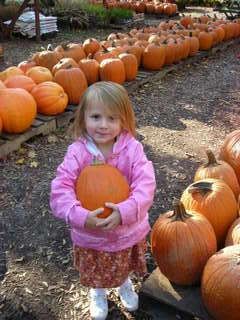 She walked around the patch, carrying this one pumpkin until her daddy relieved her of it. Even then, she kept an eye on it to be sure it was the SAME one she had originally chosen. It's displayed, proudly, in our foyer and will NOT be carved because it's hers and just too precious to her!
I got a great big pumpkin to carve and can't wait to proudly display it!