Well what's new is this: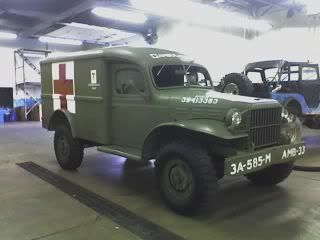 Got this om Nov 30th. Isn't she a beauty? *sigh* Aye... a beauty she is!!
as I've stated before, we have a traveling WW2 museum and now we have a nice, vintage WW2 Dodge Amubulance to bring to events. It's been a dream of ours to have one of these for about 5 years. What a great piece this is to add to our WW2 collection!
Now all we need to do is find an appropriately sized building to house the collection so we can open our WW2 Museum. We're taking it one day at a time.


I've been M.I.A. for a few weeks due to overwhelming BUSYNESS! It's been NON-STOP around here for the past month or so and it's only going to continue like this. I need to schedule in time for my BLOG! I MISS hanging out here and checking out everyone's blogs!