Favorite item in the Studio
"Thanks
Lauren
for suggesting this Friday's topic! It might be difficult to narrow it down to just one?!! item, but let's try and have a look..."
~~~~~~~~~~~~~~~~~~~~~~~~~~~~~~~~~~~~~~~~~~~~~~~~
When I first saw the Topic I knew exactly what I would write about. See this little, cluttered, green table?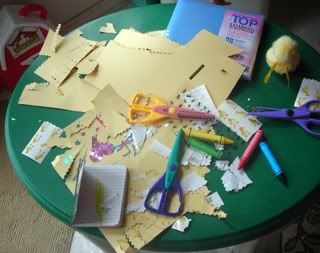 It belongs to another artist with whom I share my studio.
She's 5, very creative and I think she has this artist thing mastered, straight down to the cluttered work space!!
This table is my favourite thing in my studio. It makes me happy to see my girls wanting to be creative. It gives me hope that they will spend many hours in here with me, just hangin' out, playing and spending precious time together creating!