The heat wave here has been insane. This area just isn't used to temperatures over 100. The heat-index was as high as 112 the other day. It's unbearable.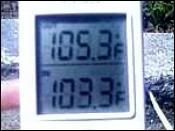 The hardest part is having 2 toddlers who, desperately, want nothing more than to go outside. We've attempted it on brief occasions only to be weighed down by the hot heavy humidity. It's sad, the girls usually wind up crying because they are miserable so we wind up back inside where they get 'cabin fever' and act like circus monkeys.
When you walk out the door you are greeted by a slap in the face by a wall of heat and humidity. Think about a nice wool rug. Wet that wool rug in a pot of boiling water. Now immediately hang it up in your doorway and walk into it. That's what it feels like when we attempt to walk out the door.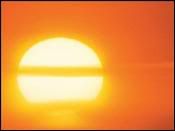 I went grocery shopping yesterday at 9AM. It was already 95 degrees by that time. When I got home, I started bringing in the bags and noticed that there were NO BIRDS around. I didn't SEE any nor did I HEAR any! It was really creepy. What I did hear were 100,000,000s of BUGS humming, chirring and buzzing. It was simply too hot for the birds to even be out. Even in the dead of Winter we have birds so I knew it was extreme.
The air looks blurry. There is soooooo much humidity that the air just hangs like wet muslin. It's like breathing in water. Totally gross. I am out there a few times a day watering the plants. They are suffering too. It's just a yucky, hot, humid, sweaty summer. (did I mention that I am NOT a Summer person?!)
It's 92 degrees already and it's only 8:34AM.
I know that there are a lot of places with higher temperatures; Texas, Arizona, Louisiana, Death Valley etc.. but this isn't those places. This is the North East.
They say today will be 104 with heat index skyrocketing past 110. Lovely. Even my dogs, who are usually exuberant about going outside, are lounging around, refusing to go out unless I press the issue. I guess it'll be yet another day, all cooped up with 2 crazed circus monkeys, riding out the heat wave.