We spent the day of June 11th hanging out with my mom.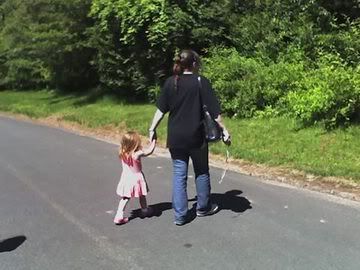 We took a nice road trip to "
Trailside Nature Museum
". When I was little I used to go there quite often. When we walked into the Nature Musueum I was pretty surprised to see the same displays as when I was a kid. My mom commented that they were the same displays from when SHE was a kid too! This display of a stuffed Bobcat has been here since my mom was little.
The girls weren't too interested in the taxidermy animals. I think the place needs a bit of updating (and they seem to be doing a little...very little) Anyway.... it's a very nice, small place and perfect for kids with short attention spans. My girls were especially interested in the rock and mineral displays. They glowed under black light!
They have a nice area in the lobby area of the museum. It has a small aquatic display of local (and not so local) aquatic animals. All are living. Here are some Turtles that look very familiar to us! (We have 2 of these Red Eared Sliders!)
There's a fun computer program for the kids to play with. You can make your own bird! She made this bird. It has a Woodpecker's head, a duck's body and Eagle's Talons. Very odd bird, indeed!
We spent the rest of the day playing out on the playground with Yaya and walking arond Surprise Lake! We had GORGEOUS weather and the girls had a blast exploring the trails and the water's edge!