I met up with my
friend
and her family in Hershey, PA. They drove out from Chicago, IL to go to a wedding in Buffalo, NY and decided to tour through PA on their way home. We met at
Hershey's Chocolate World
.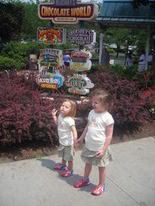 Neither of us had ever been there so it was adventure for all involved. We arrived a bit later than Tracie and her family did so we didn't go through the tour toegether. The tour wasn't all that great, it was a simulated tour and my girls weren't happy about 90% of it being in a pretty dark cavernous whatever it was. You get in line, see beautifully painted murals of Cocao trees and then shipyards and then go down the steps to a rotating floor. You get in a sort of car-type thing. Small kids were screaming the whole time. Mine were just stuck to us like glue. HA! Cracks me up. My 2 year old was a bit braver than the 4 year old but neither of them liked it. It was cute, it told the story of how they make chocolate. A bit too detailed for the girls attention span. My 2 year old liked the cow at the end who said to smile for the camera. That was the highlight for her.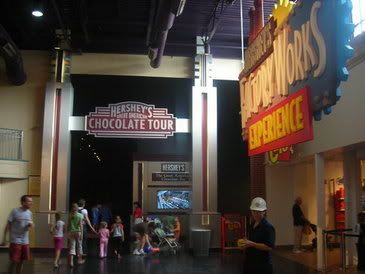 What they DID like was what came next. After the tour-ride thingy was over, they dump you off in the GIFT SHOPPE! HA! Folks, this is HERSHEY's CHOCOLATE WORLD, what do you think the girls wanted?? You got it!! CHOCOLATE!!! The gift shoppe had tons of chocolate. There was even chocolate that I had never seen before. My 4 year old got a little yellow bear holding a little bag of candy coated chocolate kisses, My 2 year old picked a little Hershey bear.
We found Tracie and her family! Though we were meeting for the first time, it didn't feel that way at all. We've been scrapbooking together (in swap groups) and have been friends on-line for YEARS.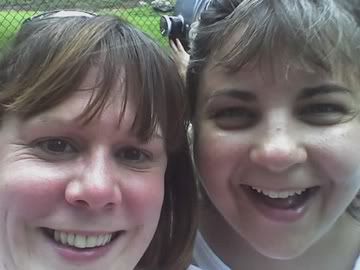 It felt like meeting up with a friend I see every day, it was awesome!! We hung out and talked a bit then we all went to
ZooAmerica
. It's a very small zoo with exibits that focus on the indigenous animals of the Americas. The cutest thing was a little owl that one of the zoo keepers was holding. My 2 year old was completely in awe.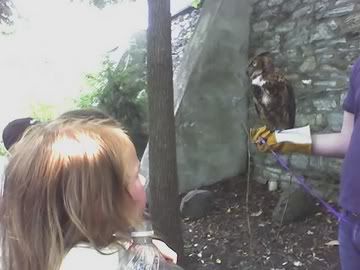 Tracie's boys and my girls got along great. It was cute to see them interacting and chatting a little. Too cute!!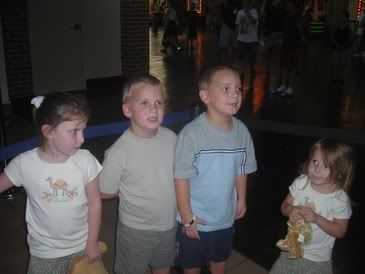 It was MEGA-HUMID but we strolled through the zoo, chatted, took pictures and when we were done, they left for their hotel and we left for home. Next time we'll book a hotel room, the drive (2.5 hours) was a bit ridiculous after a full day of playing and being out in the heat!!