This week's topic is "Studio Sidekicks" and it was suggested by my buddy,
Debbie
!
This topic is a fun one for me! I have several Studio Sidekicks and I would love to 'introduce' them to you!
This is my 14 year old Therapy Dog, Bailey.
She's a grand old girl and is never more than 24 inches from me at any given moment. She's great at giving advise and letting me know it's ok to just hang out once in a while. Her calm personality is very soothing to my frazzled spirit at the end of the day. She inspires me with my more serious and intricate creations.
This is Zippity. She's the inspiration for all my silly art.
Her energy lends itself to my own crazy personality which makes for a really fun day in the studio (fun meaning MESSY!) She's always on the hunt, finding scraps of paper I drop and 'killing' them to be sure that they don't come to life and forge an army and attack!! Zippity appreciates silly and whimsical art and loves to help me create with her own medium...... MUD! I am forever wiping her paws before letting her in the house. She loves mud and thinks that every surface should have atleast a few spatters! If we gave her her way, she'd change the complete decor of the entire house!
This is "Dude". He's a 3 year old Red Eared Slider turtle.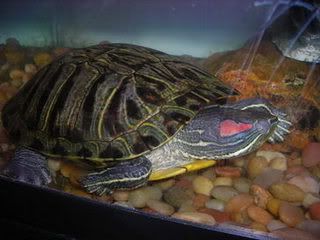 He's a very serious fellow. Most of his time is spent basking under his full spectrum UV light, looking at me like I'm COMPLETELY insane and sleeping. He lends very little to my actual creativity but he's a fun little companion to hang out with on the rare occasion that he actually DOES anything! (Come on folks, he's a turtle...what's he supposed to do, don a top hat a cane and a pair of tap shoes?!) He's cute and he loves being hand fed. Oh yeah!!! The mini waterfall in his tank is VERY soothing to listen to so I guess in a way he does lend a little ambience to my Studio.
Studio companions (whatever they may be) give our studios a splash of personality. I am, very much, an animal person and have one or both of my dogs with me almost all of the time. For me they are a feeling of security, inspiration and just plain silliness! They help me get my creative juices flowing and for that I'm eternally greatful!