Nothing beats the Summer heat like a nice dip in a cool pool! We went to
Sesame Place
for the first time. It was really fun!! It caters to smaller kids ( I'd say from two to about eight years old ) but it was a pretty good time for me and my hubby too. The girls had a complete blast and didn't want to leave! We stayed till closing and they enjoyed every, single moment!
There are various wading pools. Some have fountains in them and some are calm. Some are a little deeper than others, but none are deeper than about 2 feet. There are also rides ( kiddy type rides ) but the girls weren't even remotely interested. Their interest was with wading in the pools and having a splashingly-great time!
The girls 'won' some stuffed animals at a fishing game. Ellie is particularly proud of her little white baby seal. Mackie won a penguin and they were both content to leave the gaming area ( thank goodness! Because let me tell you, that gaming area is nothing but a MONEY PIT! )
The wading pools were 'THE PLACE' to be. Once we found the right one, the girls both didn't want to set foot on dry land.
Ellie liked the quiet tranquility of the more shallow wading pools. Mackie, however, liked the chaos and splashing of "Ernie's Waterworks" area. She did like the wading pools though because she could 'swim'
Ellie isn't quite as trusting of water as Mackie is so she was happiest just wading around, staying clear of all the splashing and commotion. Though she's a terror on dry land, she's very calm and docile in the water!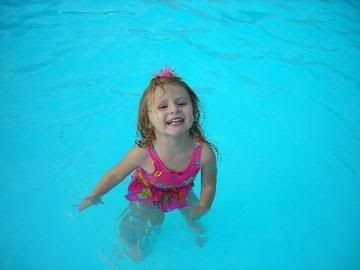 If you have kids between the ages of 2 and 10, Sesame Place is definitely worth a visit. Be sure to go on a week day (Tuesday, Wednesday and Thursday are best.) The crowd factor is lower and the pools aren't crowded. There's also a chance that you'll get a good spot to watch a parade or 2! I plan to return next week. When you buy a full-day ticket, you get a second day FREE. We took advantage of that and had our tickets validated. We can't wait to go back with the inlaws!