We pilgrimaged to the wet, soggy
Eisenhower Farm
for their annual WW2 Weekend to set up a WW2 Field Hospital. When you arrive, you are immediately immersed in 1940s WW2 culture from soldiers to sailors, homefront to correspondants. It's an amazing display of both the Axis and Allies, open to the public. Here's our Field Hospital.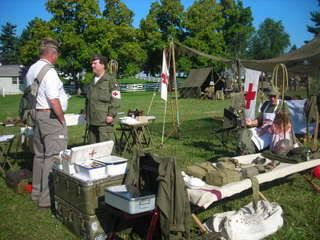 We joined our buddies, Larry and Fred and put on quite a nice display between us. We had the PERFECT spot to set up as we were right in front of the gate. People who where visiting the display came in the gate right across from us so we had a lot of people paying visits throughout the weekend.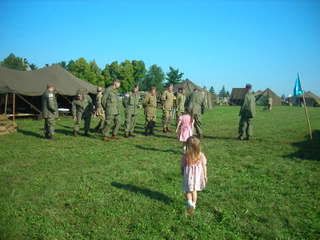 My girls enjoy the weekend excursions as much as we do and love to don their vintage 1940's dresses and play with their vintage 1940's toys as well. They are no stranger to military drills, vehicles and 'friendly' fire. You can almost say they're the youngest WW2 veterans out there!!
We make this annual trip a sort of extended weekend vacation too. We love to drive the roadsides along the battlefields and stop to admire the monuments and lush battlefield views. Gettysburg is rich with Civil War history.
Above is a photo of the Pennsylvania monument. It's MASSIVE and you can't get the feel for it unless there's a person in the photo. It was almost dusk and there wasn't a single person in sight. What a gorgeous, absolutely fantastic monument it is.
The battlefields are full of monuments and markers. There must be thousands of them which makes it impossible to see them ALL. Here's another that caught my eye. This is the monument for
Major-General John Fulton Reynolds
.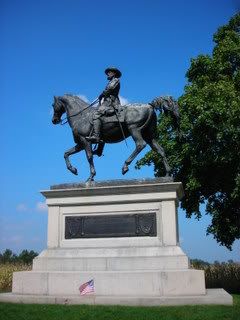 We drove past "
Devil's Den
" at sunset and had our picture taken by another visitor. (Thanks, Kim!)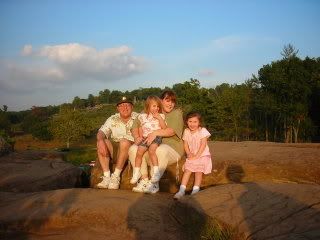 There's lots of stuff to do around Gettysburg. We did some antiquing, shopping and we took a Candle-lit walking tour of
'Haunted Gettysburg'
.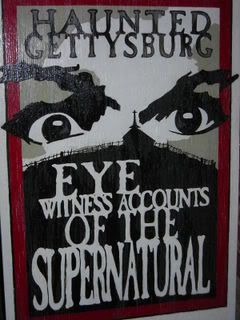 The photo above is the sign on the porch where we started the walking tour. It came out GREAT! As we walked along the tour, we took a bunch of pictures throughout the walking tour but this one (below) was the only one that came out with orbs. All of the other are pristine without a single orb. This spot that I photographed used to be the stream where the wounded soldiers would wash their wounds and drink. Several were too weak to drink or wash and simply fell in and died there. The tour guide has experienced several sightings here in this area so I decided to snap a pic. I got some orbs.(or are they dust!?)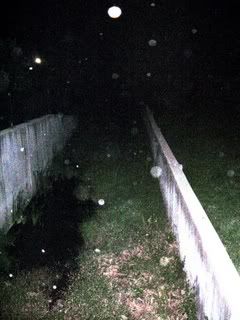 The day before we went home, we went to "
Boyds Bear Country
"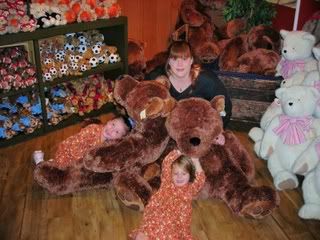 The girls were completely overwhelmed and actually wanted to LEAVE a couple of times because it was just that ovewhelming. There isn't a single spot to rest your eye. It's three complete floors, the size of a 3 tiered WAL*Mart, no kidding.
They each got to 'build a stuffed animal' which they thoroughly enjoyed! As you can see below.
Our hotel was very nice and it had an indoor pool which was GREAT! We were lucky and had the pool to ourselves and my girls and I enjoyed winding down there before bed each night.
The trip was very fun, but as most vacations go, much too short! We look forward to returning to Gettysburg in the, not too distant, future for more trekking about and exploring!