My 4 year old is a self proclaimed 'bug-ologist'
She lets everyone know that she's going to take care of bugs at the zoo when she grows up. She doesn't play favourites either, if it's a bug, insect, arachnid or any type of creepy-crawly, she loves it.
You wouldn't think of her as a bug lover if you looked at her. She looks like a girly-girl with long hair with curls, and she's ALWAYS in a dress, by her own request!
We ran across this Praying Mantis a few days ago on our travels. My 4 year old noticed her here on this newspaper vending box. Of course, striking GREEN on RED will be an attention getter (what WAS the mantis thinking?! They change color from brown to BRIGHT green) After she caught her eye, she immediately wanted to investigate!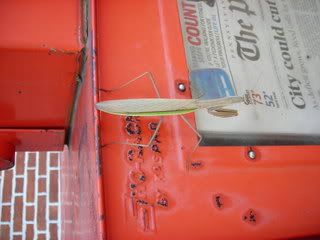 Of course, upon immediate sight, Mackie wanted to HOLD the Mantis. Due to her very gentle manner, I allowed her to put her hand out to see if the Mantis wanted anything to do with that. She wasn't having ANYTHING to do with Mackie's hand....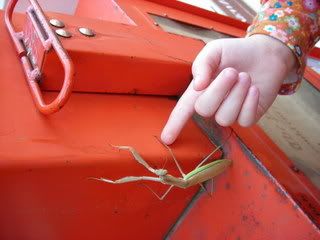 So we figured to find a leaf or something, but there wasn't anything close by. I decided to try my keychain since it was green and, lo and behold! The praying Mantis was interested and decided to check it out.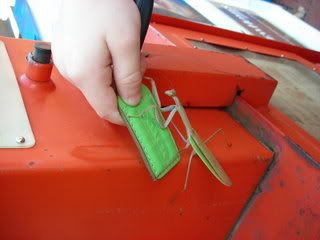 And up Mackie's arm she began to creep... Mackie was totally focused on it and LOVING every minute of it.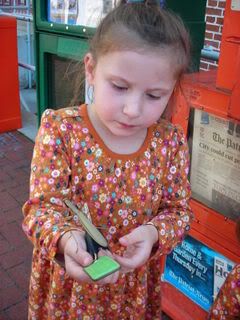 Daddy had to step in and 'help' the praying mantis back down Mackie's arm.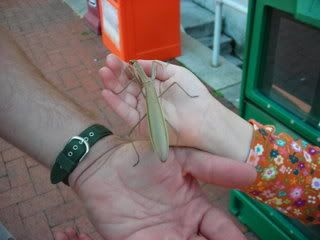 My 2 year old wanted to be part of the scene too. And with her inquisitve manner, moved herself right alongside of her sister to see what all the ruckus was about!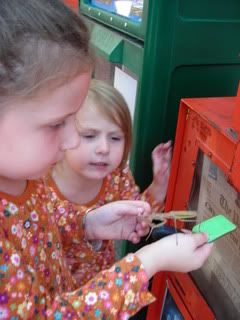 Ellie was as delighted as Mackie was. She wanted to hold the mantis too but when she felt the 'sticky' feet, she didn't like it so decided to let her sister do all the holding!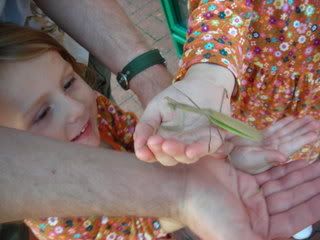 Mackie was very interested in finding the Praying Mantis a safe place so we looked around and found a barrel garden. (we were in downtown Gettysburg). Mackie commented that she thought that the praying mantis would be happier on the green leaves where she can hide.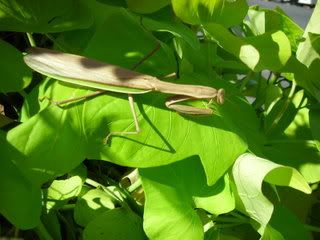 We went back the next day and she was STILL there within the green leaves in the barrel garden. Mackie went to hold her again but she disappeared deep into the foliage. What a nice thing for Mackie to experience. She saved the mantis from the sidewalk and found it a lush, green home! I am so glad that my girls are so enfatuated with nature. They are both so gentle and calm with animals and bugs. It makes me feel good that they have respect for life. Even the life of a bitty bug is cherished and dear to them. I am so very proud of my little girls!!