What the heck is a Bronze Tower, you ask?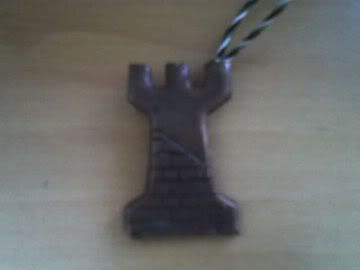 I am in the
SCA
(Society for Creative Anachronism. We recreate the Medieval ages. I have been an active member of our group,
The Barony of Settmour Swamp
, for many years and today I received a Bronze Tower! Bronze Towers are given for service to the
Barony
. I am so honoured to have received this!! I have been the Chatelaine (new comer's officer) for quite a few years now and I love to co-autocrat and lend a hand at all events I attend. I'm pretty psyched to receive it!! I was awarded the Bronze Tower by Baron Sir Teric and Baroness Paigan Crawford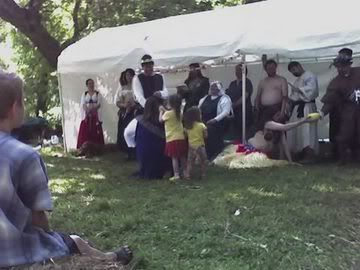 Here I am, receiving the Bronze Tower (kneeling with my 2 girls in yellow by my side).
It was SO hot, hazy and humid, I was 1/2 dieing in my velvet and linen dress! The girls were fortunate to be in shorts and t-shirts! (usually they are dressed in medieval clothes but it was just too icky to torment them in such weather!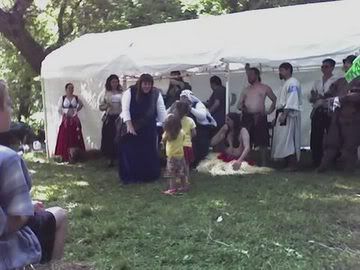 My girls were terribly excited for my award! My 4 year old kept asking, "Mommy, where's your TROPHY?!" When I showed her my Bronze Tower pendant she said, "Mommy, that's a NECKLACE! Where's the trophy?!" It was pretty funny as she was downright offended that her mommy didn't get a big-ass trophy, but rather a 2.5 inch high pendant! (don'tcha just love Pippin (kneeling in his grass skirt and his coconut bra?! LMAO!!)
I plan to continue my service to the Barony of Settmour Swamp, though I will be moving to another barony come mid-summer, I will have to give up my officership, (to Robyn from whom I received it! Funny how things go full circle!!