What a sweet thing it is to have a hand made gift presented to you by your 4 year old! She has been excited ALL week about Mother's Day. In school they had a Mother's Day Tea Party that was such absolute cuteness! I wish I had remembered to bring my video camera! *sigh* The kids in her class learned 3 songs. They all ( well... all except for 2 ) stood in a line and sang their hearts out for their mommies. It was such a sweet performance. I know that a few moms had video cameras going and also took pictures so I'm not going to miss out on those memories.
The kids served their mommies cookies and tea and then presented them with such sweet gifts! They made little watering cans out of construction paper and colored a coffee filter with markers to make the 'flower'. I took these pictures with my cell phone camera... the quality isn't so great but you can see what she made.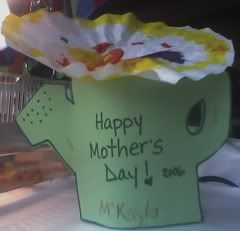 I also was given the perfect corsage, as it'll never wilt!!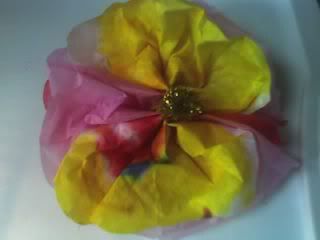 It was a morning of excitement for the entire classroom and the mommies enjoyed themselves as well. I look forward to the next years of pre-k and elementary school. I know how excited my daughter was as the week progressed to her Tea Party and I loved seeing her excited about preparing a party. She didn't even tell me about the presents!!! Most of the moms said that their kids told them! For me it was a complete surprise! My daughter can keep a secret!! (for now!!)
Anyway.. had to share that. I would love to know what your kids did for YOU on Mother's Day!!
(We took our parents out for lunch then ice cream. It was a nice, relaxing outing.)