I have found that things that sparkle, shine or shimmer bring great personality to my studio. I love sparkling clean windows, stained glass and mirrors. My mom made this for me. It's made from an antique window frame. She painted it with a base coat and then a coat of crackle paint. She added the ivy (My favourite!) and Voi-la! It hangs in my studio giving me another window. Mirrors and windows give such a nice, open feeling!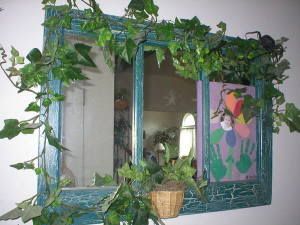 As you can see, I have used it to hold a piece of my daughter's art work ;)
And it also shows, in the middle pane, that I forgot a Halloween decortaion when I put them all away......!
Have a sparkly, shiny day!