It seems that the week takes forever to get through and then the weekend is just a few short hours....
We're huge into living history (WW2 and also Medieval.
This weekend has been a blast!
SATURDAY
We went to a living history WW2 display. It was a small one at
Camp Evans
, in NJ. They dedicated a new Signal Corps museum and we all set up so that the attendees could see an actual set up of WW2 equipment and uniforms after the ceremony. I was rather disappointed because the ceremony was by the front gates and the living historians and reenactors were down the road a little bit and sort of hidden. We had a small trickle of guests pass by but most people didn't even see us. This happened once before with this same group of organizers. I think I will email them and let them know that it's unacceptable to have us out there, without pay, for 8 hours only to have set up our stuff without anyone to show it TO.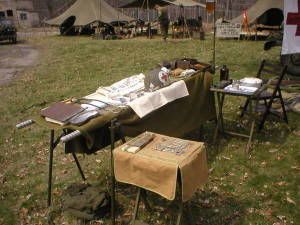 Most of our immediate group set up and also our Axis Friends had a small camp across from us. (just 5 of them) Here is a picture of my hubby setting up his small field hospital.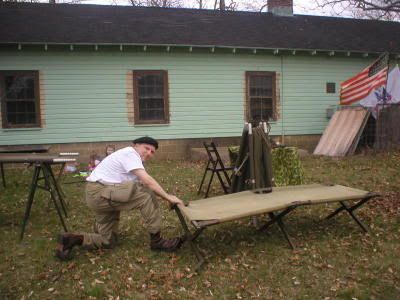 The day went well, aside from hardly any passers-by, but my girls had a blast playing in the sandy-dirt! *UGH* Here is my little one, displaying, proudly, her DIRTY FACE!!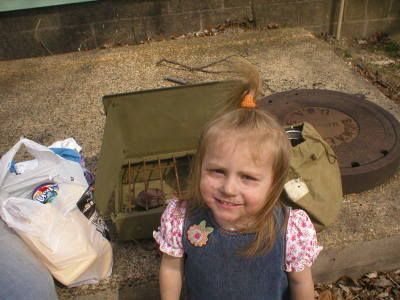 We had an very fast, very windy rain storm right as we were breaking down for the day and we got SOAKED. I hurried up and packed the girls in the van and had them watching their dvds while we packed up the rest of the van. Everything got SOAKED!
SUNDAY
Today has been a 'veg out' day. We woke up wanting to drive out to PA to get some auction items we won but my 4 year old had a tummy ache so we opted to stay in. She isn't herself. She's lazing on the couch and hasn't moved. This isn't at ALL like her. She's usually begging to go outside. It's 74 degrees today. Hubby straightened up some stuff upstairs, organized some stuff to pack and I did a load of laundry and ran to get subs for lunch! I LOVE LOVE LOVE SUBS!
I am scrapping and playing at
TTS
today and who knows what the rest of the day will hold. It's only 4:30pm!